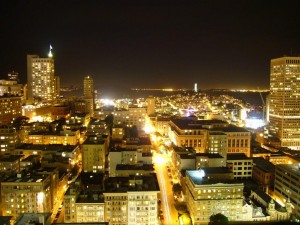 I stayed at the Hyatt Grand hotel near Union Square in downtown San Francisco the night before last. The sliding doors are large, but generally inoperable except that they open up to 4 inches to allow ventilation. The block that was supposed to hold my door in place was broken and so the safety controls were off for me. 
I could walk right up to the railing and as I did, my knees got weak. The tiny strip of concrete outside the door was sloped downward, away from the building. Standing there gave me the sensation that I was about to slip.
A fall from there would have been so unlikely – nearly impossible – short of climbing over the rail, but I held my breath in that place as the wind blew around my head.
It was a pretty view.